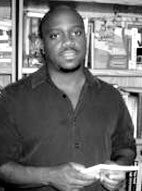 Howard L. Craft is a poet, playwright and arts educator from Durham, N.C. He is the author of a book of poems, Across the Blue Chasm, and the plays The House of George, The Wise Ones, Tunnels, Stealing Clouds, Lonely Words, A Touch of Sugga, Fourth and a Mile, The Vet Who Lived Underground: Dispatches from Beneath the Map, The Dragon: A Conversation with George Jackson and Caleb Calypso & the Midnight Marauders.
Craft has twice won the N.C. Central University New Play Project and has received the N.C. Arts Council Playwriting Fellowship. His play The Wise Ones was selected as one of the Raleigh News and Observer's top productions for 2005, and his most recent work, Caleb Calypso & the Midnight Marauders, was selected as one of the best scripts for the 2009 Theatre Season by the Independent Weekly.
His plays have been produced at NCCU, the University of North Carolina at Chapel Hill, the Carolina Theatre of Greensboro, N.C., and Manbites Dog Theatre, in Durham, N.C. Craft was honored when Karen Dacons-Brock, professor of theatre at N.C. Central University, received the 2007 Meritorious Achievement Award for Excellence in Direction from the Kennedy Center American College Theatre Festival for directing his play Lonely Words.
For the past six summers, the Julius Chambers Biomedical Biotechnology Research Institute, in collaboration with the NCCU Theater Department, has commissioned Craft to create original scripts concerning issues of health disparities in the African-American community. The plays dealt with the topics of drug addiction, diabetes, breast cancer, HIV/AIDS and prostate cancer. Data from audience members have provided information for numerous articles about the impact of theater in addressing issues of health disparities.
During the school year, Craft reaches hundreds of children through the United Arts "Artists in the Schools" program, where he has conducted poetry residencies and workshops for third- through 12th-grade students since 2000. He has twice been named North Carolina judge of the National Endowment of the Arts' Poetry Aloud. He has been a member of the Duke University Young Writer's Camp faculty since 2000, specializing in experimental poetry and screenwriting, and has taught playwriting workshops for adults through the N.C. Writer's Network and the Taller Portobello Art Colony in Portobello, Panama.